Kewaunee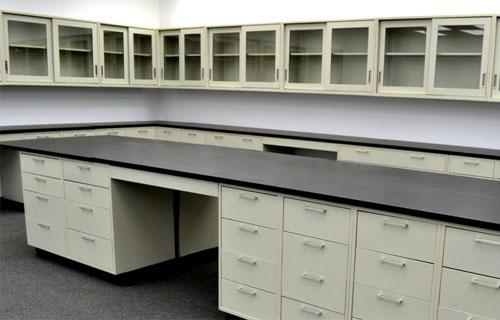 Make sure you check out our selection of used
Kewaunee laboratory cabinets
when you're searching for high quality equipment that will be able to last for many years. With qualities like finished surfaces that are easy to maintain the hard laboratory environments, these fully-framed cabinets have proven time and time again that they are tough enough to stand any situation that may occur in the laboratory. Kewaunee laboratory cabinets come with one of the highest standards of either wood or steel and is a name that you can trust.
Many laboratories are recognized for the particular furniture that they contain that allows certain scientists, professors, and instructors to do their jobs. Kewaunee laboratory cabinets are designed to withstand the rigors of the laboratory environment and assist with unique situations that may occur. Quality and safety are factors to consider when you're in need of a laboratory furniture, why not choose a brand you can trust like Kewaunee laboratory cabinets?
Our team of experts at National Laboratory Sales understand that choosing which used Kewaunee laboratory cabinets that are right for your lab may be a hard process when you're unsure of the different brands and what they offer. Let us make the decision easier by talking to us and telling us exactly what you're looking for when it comes to laboratory furniture and cabinets. Give us a call today and speak with one of our expert staff members on how we can help you!
---
Contact National Laboratory Sales today and let us know if you're interested in receiving more information about any of our used Kewaunee laboratory cabinets and furniture today!